[ad_1]

She's spent the last nine years helping students discover their potential and perform with all the confidence of professional actors. Now Kimberly Fielder-Jones is getting her own moment in the spotlight.
The NC Theater Conference, a statewide professional association for the theater industry, selected North Moore High's theater director to receive its K-12 Theater Arts Educator Award for 2021. The organization's annual awards go to professional and community performing companies, schools and individuals that exemplify both leadership and artistic excellence in their arena.
NCTC's Board of Directors reviews each year's nominees to select a recipient. Fielder-Jones' award presentation is scheduled later this month. Presenting her award will be her former teacher at Union Pines, Judy Osborne, who now teaches theater at The O'Neal School and serves on the NCTC board.
Executive Director Angie Hays said that Fielder-Jones' track record of high-quality theatrical productions and students who pursue — and typically earn — competitive college scholarships for acting and technical production contributed to her win.
"I have known and worked with Kim for many years at NCTC. She is an outstanding teacher and director who works tirelessly with and for her students, instilling in them a love of theater and an exceptional work ethic," said Hays.
"She's dedicated to our mission to strengthen North Carolina's vibrant theater industry and engage tomorrow's artists, audiences and advocates. Kim is respected by colleagues across the state for her incredible work and passionate commitment to arts education. The NCTC Board of Directors is proud to honor her with this award."
North Moore has qualified to compete in the NCTC State Play Festival in four of the last five years. The school's 2017 production of 'Tuesdays and Sundays,' starring students Ashton Dillon and Chelsea Williams, won the top award at the state festival and moved on to the Southeastern Theater Conference's high school festival in Alabama.
Fielder-Jones took on leadership of North Moore's theater program just four years before that, in 2013, as a part-time job. At that point the school had fewer than a dozen students signed up for theater class.
Director Kimberly Fielder-Jones helps Jessiah Bullock with his costume before North Moore's 2019 musical production of "Beauty and The Beast."

TED FITZGERALD/The Pilot

A Union Pines graduate herself, she had started her career with Moore County Schools teaching students with special needs. Fielder-Jones moved to Sandhills Community College about 10 years later to be an instructor in the early childhood education program.
When she learned about the North Moore job, though, she decided to return to roots laid down as a student director and stage manager at Union Pines.
"My passion is theatre, but I also have a passion for children with exceptionalities. It just happened that this job came open for theater and I was ready to go back to the classroom from the college," said Fielder-Jones.
"I knew the school because I had been an itinerant teacher here for a few years when I taught special education. So I knew the area, I knew the environment was a warm and welcoming environment."
Fielder-Jones took a multifaceted approach toward building the program, while still teaching part-time at Sandhills. Since North Moore's feeder schools don't offer theater, they also started a Broadway Junior summer camp that's open to middle school students.
Then after a year or two competitive success generated positive buzz that piqued new students' interest.
"Once they sign up, they come in, they do the summer program and their freshman year a lot of them sign up for theater classes," said Fielder-Jones.
"Now we have over 50 kids that participate in the productions and in class. We built it up over quite a few years, and then of course went on to win a lot of competitions. Through the years the kids just come out more and more."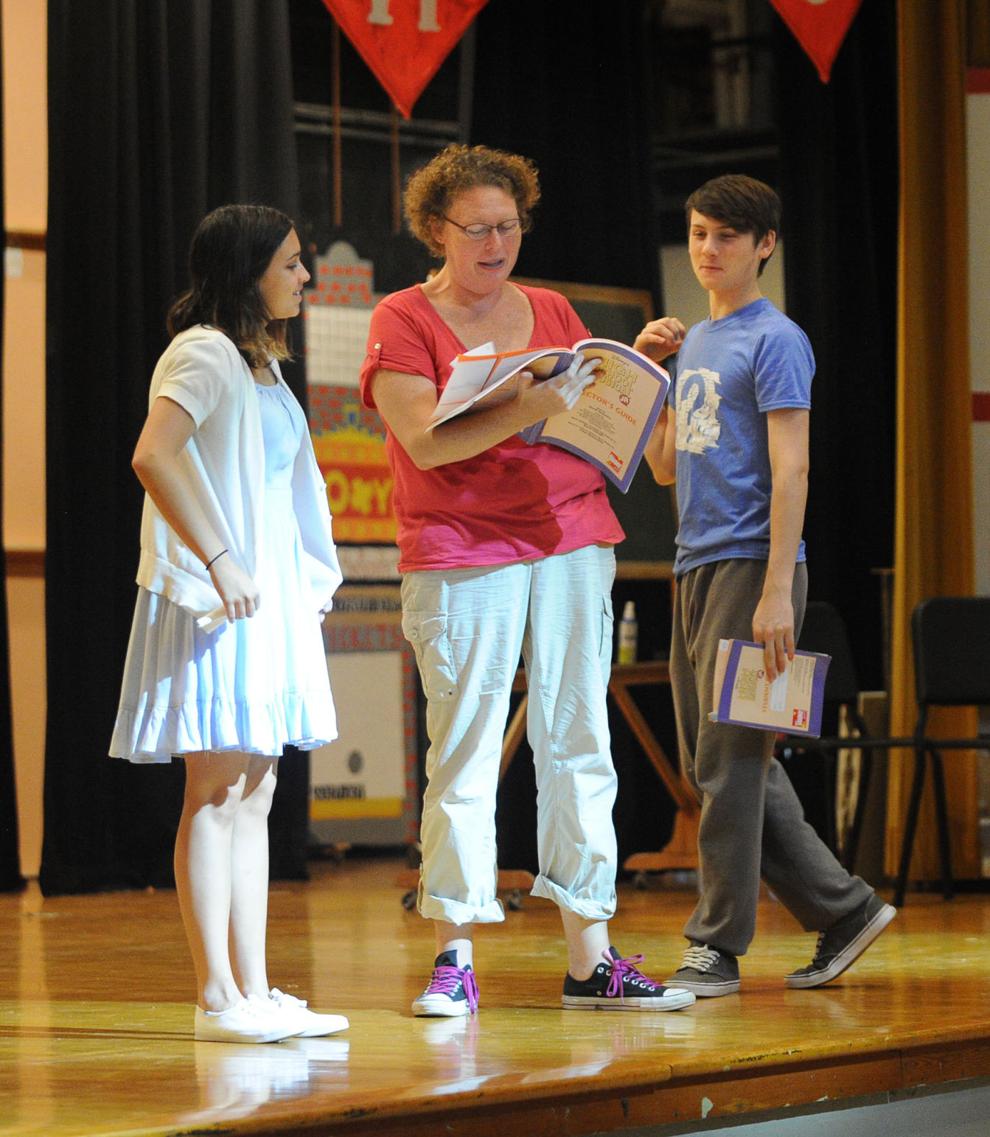 Director Kim Fielder-Jones goes over lines with Sarah Halloran and Ashton Dillon during rehearsals for North Moore's 2017 production of "High School Musical." Ted Fitzgerald/The Pilot
In addition to NCTC and annual musicals, North Moore is in its first season competing in the NC Thespian Festival. The festival is similar to NCTC in that the school produces a one-act play of about 45 minutes that's scored and ranked against performances from all schools competing.
But it also gives students the chance to compete as individuals in categories like makeup design, singing and monologue delivery.
"We have a very supportive administration that is constantly encouraging us to perform and find productions that we enjoy and we're able to benefit from," said Fielder-Jones. "Just having the support of the administration and staff here has been great in helping us be successful at competitions."
But the now-vibrant theater program and statewide awards for excellence in acting or design are still just intermediate steps in a larger process of developing self-confident students who know what achievements are within their grasp.
"One of the most important things to me with theater is to have an experience for the students that they're able to explore different literature that maybe they wouldn't get to explore, to be able to do public speaking without being afraid to find something in the theater profession that they're interested in," said Fielder-Jones.
"It's not always about being onstage, a lot of it is management, it's technology, it's building. Theater is full of opportunities for everybody."
NCTC also runs a College Day in conjunction with its state high school play festival. Students competing there for audition with faculty and admissions officers from colleges around North Carolina for millions of dollars in scholarships up for grabs. Attending college on a theater scholarship sometimes can give students financial access to college and an opportunity to study other fields.
Fielder-Jones' theater students have always risen to the occasion, even if it means taking extra voice and dance lessons or long Saturday rehearsals.
"The most gratifying part of it is just watching the kids see all their hard work be recognized. They put in hours and hours of rehearsal and they are probably one of the hardest-working groups I've ever seen," said Fielder-Jones.
"People come and say 'Oh, we didn't know that there was a theater program at North Moore.' Then they see one of our productions and they're in awe and amazed by it. I'm always proud when people recognize how much talent is up in the rural area. They deserve the applause just like students anywhere else."
[ad_2]