[ad_1]

In October 2019, Air New Zealand revealed plans to launch nonstop flights to Newark as of October 2020. As you might expect, the pandemic delayed the launch of that flight, but we now have an updated timeline for this becoming a reality.
Air New Zealand launching Auckland to Newark route in 2022
While we don't yet have an exact date, Air New Zealand CEO Greg Foran announced today that the airline plans to move forward with Newark service in 2022. As he explained during a financial presentation:
"Looking further out to the end of this calendar year, we will be ramping up more passenger flights to North America and looking forward to starting up our direct service to New York City."
Pre-pandemic the plan was for the airline to launch this route year-round 3x weekly, with the following schedule:
NZ2 Auckland to Newark departing 7:55PM arriving 5:35PM
NZ1 Newark to Auckland departing 7:05PM arriving 6:45AM (+2 days)
At 8,810 miles in each direction, this would be one of the world's longest flights, just shorter than Qantas' Perth to London flight as well as Emirates' Dubai to Auckland flight. The plan was for the flight to be blocked at 15hr40min eastbound and 17hr40min westbound, though it could be slightly different once the route is actually launched.
Presumably this service launching is contingent on New Zealand greatly easing border restrictions. New Zealand Prime Minister Jacinda Ardern has outlined the country's plan to take a phased approach to reopening borders. However, there's no concrete timeline for when the country will open borders to foreigners without a quarantine requirement.
Arguably demand for nonstop travel is even greater post-pandemic, as people look to make their journeys as easy as possible.
Air New Zealand plans to fly to Newark
What plane would Air New Zealand fly to Newark?
Air New Zealand plans to use a Boeing 787-9 for its Newark route. This route should just barely be within range for the aircraft. While there are some slightly longer 787-9 flights in terms of distance, this flight could potentially face more significant winds than Qantas' Perth to London flight, based on how jet streams work.
Air New Zealand's plan is to use its premium heavy Boeing 787-9 for the route, featuring 275 seats. This includes 27 business class seats, 33 premium economy seats, and 215 economy seats. However, there have long been rumors of Air New Zealand introducing an all-new business class product.
Given the distance of this flight, I wouldn't be surprised to see the airline introduce the new cabins on this route, perhaps with an even less dense configuration, to ensure that range isn't an issue for this flight. The plan is for future delivery Boeing 787-10s to feature this product, but it's the 787-9s that will fly the longest range services.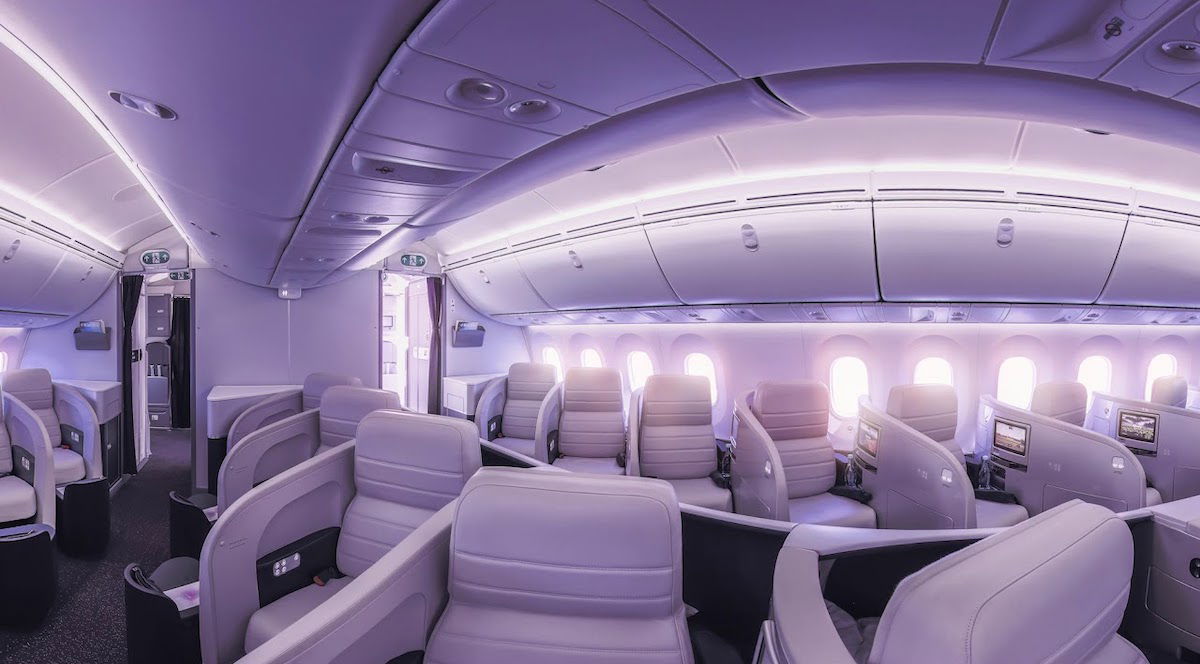 Air New Zealand's current business class
Bottom line
Air New Zealand seems committed to launching its nonstop Auckland to Newark flight, with the latest plan being for the airline to start this service before the end of 2022. It's anyone's guess if that timeline sticks, especially given that New Zealand still hasn't committed to a timeline for a border reopening without a quarantine requirement.
If this route does launch, it would be one of the most exciting new routes that we've seen in a long time.
Do you think Air New Zealand will launch Newark flights in 2022?
[ad_2]